Warning
: array_key_exists() expects parameter 2 to be array, boolean given in
/home1/es7400/public_html/wp-content/plugins/reaction-buttons/reaction_buttons.php
on line
54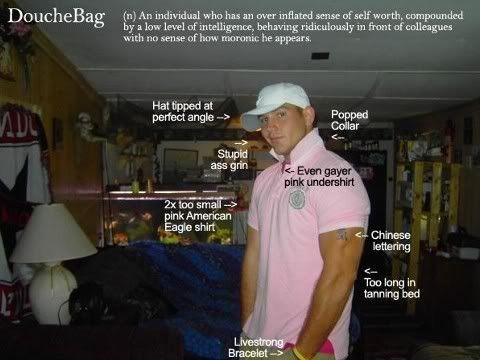 I saw some loser wearing his visor backwards the other day thinking he was cool. Then I was like wait! I know someone who does that. And when he does it, it is awesome. I wondered why that was so, and concluded it's because 1) he's my dad and he's the shit, 2) street-cred, and 3) the '70's (because I feel as if that is where a lot of this stuff came from and he's just single handedly carrying on the traditions of his 20's and 30's).
So I give you a list of things my dad does that are awesome, but if YOU did them, you'd be a d-bag.
Wears his visors backwards
Pops the collar on his Polo shirts
Wears pinkish colored Polo shirts with said popped collar
Rocks Converse Chuck Taylor's (well if you do this you're not a d-bag, just a stupid hipster. He is clearly neither)
Really enjoys the works of Tom Cruise
Requests (demands?) "Paint it Black" at every concert he attends (his own personal "Freebird" if you will…)
Lives in Wrigleyville. Actually, he was the pioneer of that neighborhood.
Clearly my dad has reached a level of awesomeness that we can only aspire to…
Things I Live For: My dad
Quote of the Day: "Friends are those rare people who ask how we are and then wait to hear the answer." –Unknown
Comments